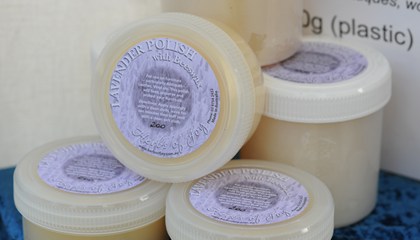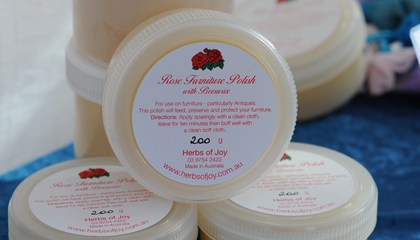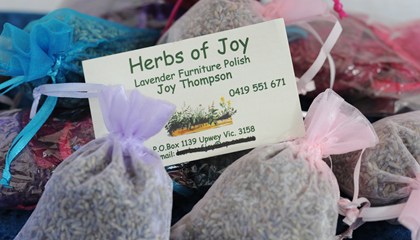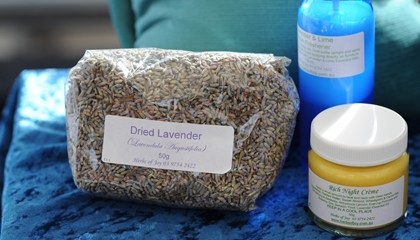 Stallholder Details
Herbs of Joy
PO Box 1139
Upwey VIC 3158
0419 551 671 or 03 9754 2422
Markets
Herbs of Joy
Herbs of Joy has been manufacturing a variety of products based on herbs and their essential oils along with fragrances from flowers since 1984.
Much time is spent stirring and stirring (a lot) and pouring the crèmes and lotions as well as giving talks on herbs to various groups including Probus, garden clubs, CWA and other interested members of the community.
Many of the products such as the Sleep Oils have been in production since the inception of the business, along with the Herb Salt and many of the skin creams. The Lavender Polish with Beeswax came about through a love of wooden furniture, followed by the Rose Polish with Beeswax, a few years later.
What had begun as a hobby soon turned into a full time business.
It was through reading historical romances in which they spoke of the herb gardens kept by the ladies of the great houses of Britain who would make various lotions and potions for their household and the monks with their physic gardens that inspired interest.
Having the attitude of I can do that, or would like to do that, has helped tremendously in getting back to basics.
All products are made by Joy with the occasional help from my family.
I retail online and at weekend markets in suburban Melbourne and regional Victoria.
Gallery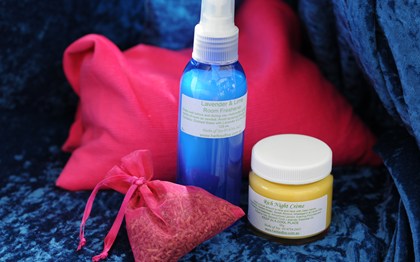 Product Range